Good lord! It's
---
Who: SE2600
What: a weekend of hacking, panel discussions, partying and other mayhem
Where: Days Inn - Airport, 1 International Plaza, (Briley Pkwy. @ Vultee Blvd.) Nashville, TN 37217
When: November 2nd through November 4th, 2001 -
Why: Because it's not illegal. Yet.
---
IT'S NOW ILLEGAL - As of 10/26/01, we are apparently a terrorist organization.
SCHEDULE - Mostly final, we hope. List TBA 10/30/01; still waiting on a few items.
SPEAKERS & PANELS - Starting Saturday, noon; exact times & details in a few hours.
T-SHIRTS - Reprints and sneak-peeks at the new shirts, plus artist credits and contact info.
VOLUNTEERS - Who's working where/when; wanna help?
MISC INFO - Odds and ends.
PhreakNIC is Nashville's *FREE* annual
hacker
con. Anyone is welcome to attend. We create an environment where people who are interested in the more underground elements of technology can meet, exchange ideas and hopefully teach/learn. The primary focus is on computers and computer security, but we also cover other topics, such as radio (ham, pirate & low-power/community), SETI work, robotics, high-power rocketry, satellites, phones and phreaking, cryptography, etc. We are planning interesting things for our fifth year - please join us.
Con cost: Nothing, nada, not one damn cent; donations accepted and/or buy a con t-shirt.
Beer cost: BYO or kick in for the keg fund.
LAN: The hotel will be wired for r00t wars, gaming, file sharing, etc. in main conference rooms as well as individual hotel rooms. You run *YOUR* cat5 to *US* this year. We have Internet access via the hotel's fracT. A DHCP server will assign internal IP addresses for the different con LANs.
Con rooms: Open 24hrs/day; music, live djs, movies, vendors, hamfest, bazaar, panels, demos, etc.
Reservations: (800) 851-1962 and/or (615) 361-7666
Directions: Either hit MapQuest & plug in the street address, or check out the info below.
Airport shuttle: 5:00am - 11:00pm
Room cost: $55/day, two bed suite.
Please reference "PhreakNIC 5" when reserving your room in order to get the discounted rate.
Food: Bar/restaurant onsite.
Map: Hotel layout.

PhreakNIC5 GPS                (NAD-27)
--------------------------------------
      Decimal Degrees      Deg:Min:Sec
Lat:        36.126309    36:07:34.712N
Lon:      -086.694682    86:41:40.855W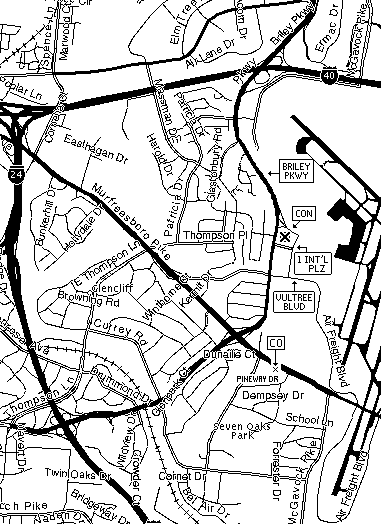 Name: Nashville International Airport
FAA Designation: BNA
Homepage: www.nashintl.com
Via the se2600 CONS list.
Email majordomo@se2600.org to join the list; put "SUBSCRIBE CONS-SE2600" (minus the quotes) in the body of the message.


Closest CO
-------------------------------------
Wire Center Name: NSVL-AIRPORT
Building CLLI: NSVLTNAP
Street Address: 1335 MURFREESBORO PKE
City: NASHVILLE
State: TENNESSEE
Zip Code: 37217
V - Coord: 7012
H - Coord: 2693
Switch CLLI: NSVLTNAPDSO
Switch Name: NSVL-AIRPORT DSO
Switch Type: 5ES
NALs: 29263
*NPA-NXX: 615-360
          615-361
          615-365
          615-366
          615-367
          615-399
Host CLLI (if remote): n/a
FG D Access Tandem: NSVLTNMT84T
MSA Name: NASHVILLE
MSA Abbrev: NSVLTN
LATA Code: 470
Other CLLI(s) in Building: n/a



22 57 65 27   72 65 20 6F
6E 6C 79 20   69 6E 20 69
74 20 66 6F   72 20 74 68
65 20 62 65   65 72 2E 22





50 68 72 65 61 6B 4E 49 43




---