Twitter Feed Broken
WilpigOctober 10, 2012
The twitter feed broke. I'll get it straightened out ASAP. Follow @phreaknic.
Pre- Registration
WilpigSeptember 19, 2012
Since I still haven't gotten the announcement up yet here is the link to the pre-registration store. The URL is the same as last year http://store.phreaknic.info we have just changed out Click & Pledge for a google checkout
Cannibals strike?
Hot Pig on pig action.
WilpigJune 23, 2012
I am currently working to secure The Pig Roast v2. More information on the events page. For more information on sponsoring this event see the FAQ.
Anime Returns!
NotlarryJune 23, 2012
I saw the princess strapped to a scaffold, no hero in site, and the Kraken appeared. I know where this is going.
Blank Title
WilpigJune 14, 2012
There should be some content here but I'm busy and nobody else has offered any assistance so this will have to do for now. Use your imagination to picture something here.
Notlarry Probed
WilpigJune 7, 2012
Abducted by aliens and forced to drink upside down during bizzare torture session. Lucky for us someone was there to film it and put it on youtube.
Hacking for good
DolemiteOctober 19, 2012
This year we have a very special opportunity to use our powers for good, rather than evil. The Nashville Technology Access Center (TAC) is a group that takes off-the-shelf products and hacks them so that they're easier for kids and adults with disabilities to use. These modifications may be in the form of larger buttons or switches, amplified speakers, or a multitude of other hacks. If there was ever a charitable cause that was screaming out as a perfect fit for the hacker and maker community, it's this.
So how can we help?
Here's how:
Buy a gift card to Toys-R-Us, Wal-Mart, or Target to donate to either the Nashville TAC or the closest one to your home town (you'll find out about the network of TACs at the presentation Friday night)
Buy one of the toys on this list and bring it with you to hack during PhreakNIC, and then donate it to a TAC
Buy one of the toys on this list and bring it with you to donate to the TAC for them to modify later
Learn about the network of TACs and find one close to your home - and volunteer to help them hack toys before Christmas
I know that times are tight right now, but it's hard to find a better cause than helping out kids who have some type of disability that makes it hard for them to even play with basic toys.
Thanks,
Dolemite
Thank our amazing sponsor!
WilpigSeptember 14, 2012
PhreakNIC is thrilled to announce that we will once again be able to celebrate with a Whole Hog BBQ! Thanks to the gracious support from Codex Labs, LLC, we are able to create a fantastic networking opportunity with your peers, while enjoying some of the finest BBQ around. There will be a whole hog, plenty of side dishes, and for the vegetarians, we'll have some bottled water. This meal will be provided on Saturday night, and is included as part of your paid admission to PhreakNIC. Please take time to check out our sponsor's website, and when you see someone from Codex Labs at the conference, thank them for their support!
We have arts!
The store is open for pre-registration now too
WilpigSeptember 14, 2012

Earlier this year we put out a request for artwork. We asked for something more in the style of some of the earlier art. One of the artists delivered this and we instantly loved it. While the final design of the shirts are still being worked out. You can view the artwork here on the right. Pre-ordering is available in the store. Melissa Gay is the artist who rendered this year.s wonderful design. She has also been a featured artist at our sister-con Hypericon. You can view more of her artwork, as well as contact information, at http://www.melissagay.com/.
We also got a second submission that was top notch but we feel is more poster worthy from our new friend Savanna Teague. You can see more of her work at http://savannadesignsitall.com
This is a good time for me to let you know that the http://store.phreaknic.info is up and running again. We have gone away from click & pledge in favor of a google shopping cart. If you have any problems with it please contact us immediately either on Freenode in #se2600 or via email to help -at- nashville2600.org
Planning updates
WilpigAugust 18, 2012
Two quick updates tonight, and now for the real one. Plans are coming together for PhreakNIC and we'll get the store up soon to allow for getting tickets in advance. Just like last year we are doing $25 pre-order and $30 at the door. We have not decided on if we are going to do the custom badges like last year or not. If you were present and liked the custom badges let me know and I will try to work a design that allows for that again. I had a great bit of fun doing them and had a little more planned but it just turned into way more work than I expected.
Plans for the whole hog barbecue are in motion. Our barbecue master is confirmed but the menu is not! What that means is that we are getting options other than just a pig. Is there something that you would like to see that won't break the bank? We've had a suggestion for a calf. I'm not sure how well that will work but it would be barbecued and i'm sure delicious.
Hey look, themes!
WilpigJune 25, 2012
Check it out. Down there in the bottom left-hand corner.
This being our sixteenth year and since we like to have some fun with the website. We've added a few alternate styles to choose from. The default is this red, white and blue. The little crown is our sweet 16 theme. Nyanlarry is the last theme with thanks to our President for having such a good sense of humor about it, and eating all that glitter.
All the theme magic is being done with the help of jquery so if you're blocking scripts take a second to add in an exception. There is no google analytics or anything else in the background just jquery and a few plugins to make things easier. Go ahead and read over all the code and let me know if there is anything screwy.
Call for papers
WilpigJune 23, 2012
With our date finally set we can officially put out a call for papers. If you have spoken before or would like to speak, please send a synopsis to vp@nashville2600.org
Hotel renovations complete
Now looks like the Clarion Inn & Suites in Murfreesboro
Web AdminJune 8, 2012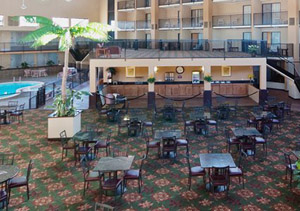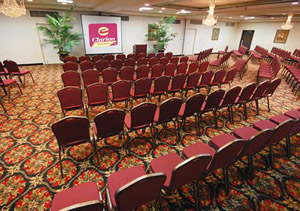 After seven years at the Days Inn we figured it was time for a little change in an attempt to answer one of the requests we get the most. You wanted restaurants and other things in walking distance and now we have 'em! Though I will suggest using a car if you would like to go to something on the other side of Old Fort Parkway.
With change there comes a need to get some feedback as well. We are asking that everyone, attending or not, let us know what you think of some of the changes so that we can continue this tradition for another sixteen years. With the move away from the Days Inn we will no longer be bound by the Titans schedule for selecting dates. What dates have you most preferred in the past and would like to see going forward?
We have secured an early registration rate with the hotel of $89 a night. Click here for more information.